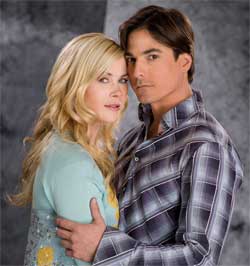 Beginning this week, through April 14, fans of NBC's DAYS OF OUR LIVES can vote online at NBC.com/days to help select the special gifts that Sami Brady (Allison Sweeney) will receive from her family and friends on her wedding day.

DAYS fans have the unique opportunity to be part of Sami's wedding by voting multiple times for their favorite elements that will be incorporated into her "green wedding" by logging onto NBC.com/days.

Over the next few weeks, viewers will be able to choose from the following categories once a week: something old, something new, something borrowed, something blue...and in a unique twist to tie in with Sami's "green wedding" her friends and family will get her something green!

The special items that are chosen by viewers will be given as gifts by Sami's friends and relatives on-screen: Something old from Caroline (Peggy McCay), something new from Hope (Kristian Alfonso), something borrowed from Marlena (Deidre Hall), something blue from Chelsea (Rachel Melvin) and something green from Kayla (Mary Beth Evans). And, all the gifts will be eco-friendly and fans will get to see their choices on air.